A simple bicycle can change lives. No matter how big or small our dreams may be, what matters is the experience of joy when you finally have it.
That is how 13-year old Jesus Latagan sums up his thoughts as he receives a much-awaited bicycle from Educo Philippines.
Jesus or "Boy" is a sixth grader of Loreto Elementary School. He is the fourth among the brood of seven of parents Rico and Maribel Latagan. His father is a small time farmer while his mother is a full-time housewife. His eldest brother, Christian, helped his father in the farm while his two older sisters Ronavi and Christina, are currently working in Manila as a factory worker and a load retailer respectively. His siblings finished high school but opted not to continue schooling in order to work and help their parents. Boy has three younger siblings who are also pupils in the same school.
His teachers describe him as courteous, industrious and active as a pupil. He looks after his younger siblings especially when in school. They used to walk two kilometers of rough road going to school and coming back home. Oftentimes he would arrive very late in school because he walked slow or was feeling tired.
When he was 11 years old, a friend of his lent him a bike that he could use going to school. In that short period of time he became very good at biking and wished of having his own. He wanted to ask his parents to buy him one, knowing that a bike is a big help for his daily route to school. But he also knew that it was impossible considering the family's income situation.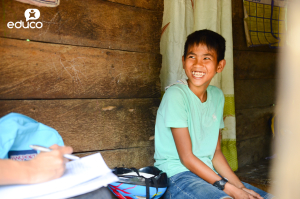 Imagine the happiness that Boy felt when he learned that he was chosen to receive a bike from Educo! On June 18, 2016, pupils of Loreto Elementary School received bicycles from the organization and truly, Boy was overwhelmed with joy. He could not believe that he will be riding a bicycle that he can call "mine".
Two months later, there is a remarkable improvement in Boy's attendance in school. He now  wakes up early and is always excited to go to come to class. His parents also observed that he is now willing to run any errand for the family, like going to the market riding his bicycle! Before having a bike, Boy would be crying whenever his parents asked him to buy something from the stores because of the kilometric distance that he had to walk.
Boy also lets his younger sister learn how to bike. He gives them a ride going to school and back home. He and his siblings now arrive early in school and are always present in their classes. His teachers can tell how he takes extra care of his bicycle; he also wears his helmet for protection. He's forever being grateful of the opportunity.
"Dreams do come true!," he happily shares.
#Story by: Rose Marlene Coraza, Project Officer
 +63 52 481.2100 / 481.2111
WHERE ARE IN:
MISSION, VISION, VALUES AND PRINCIPLES: