Practicing positive discipline needs an artistic teacher who knows its science.
In Sogoy Elementary School, Castilla, Sorsogon, teachers have been observing positive discipline not just to follow the Department of Education's policy on zero tolerance for any act of violence against children in school but more so to practice it in everyday teaching to help children in their development.
Mrs. Ma. Teresa Conda Cabria, or Ma'am Tess, has been embracing the values of positive discipline. She has been teaching for 21 years, spending half of this career in Sogoy Elementary. She has also been an active partner of EDUCO in disseminating and implementing education related activities since 2005.
Ma'am Tess has been practicing positive discipline even before the word was coined.  Responding through this type of approach has been easy because of her positive interpersonal behavior. Her peers and students have described her as an understanding and caring teacher, with a positive interpersonal behavior and sense of professionalism.  She treats her students in the same way she treats her six children.
Positive discipline should not only be practice when conflicts arise in classroom or in teacher-student relationship but in all interactions with the students and to all aspects of their learning.
"A teacher plays an important and large factor in improving children's learning. It is not the child's fault if they're having difficulty learning.  Teachers should do everything for a child to learn.  This includes knowing their situations in the family and in their community," she says.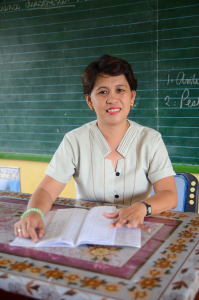 Ma'am Tess is a teacher who understands and respects students as an individual. "Children do not need our patience but rather our understanding that they are still developing and that each child is different. It is important for me to recognize my students' individual differences so that I could adjust my teaching strategies based on what is academically sound for the child," she expounds.
"I show them how the subject directly relates to them in an applicable, engaging and meaningful manner. Also, I try to invest time in developing children's artistic skills because some of them are better in this area and learns faster if creative approaches are employed.  I make Fridays as examination day to monitor my students' performance," she explains further.
Her knowledge on child development comes from studying Special Education courses at the Pamantasan ng Lungsod ng Maynila in Manila between 20070-2008. She combines this formal knowledge with the lessons she gained from attending various trainings with EDUCO on creative pedagogy. This enables her to improve her classroom management skills, teaching techniques and strategies.
According to her, children will learn best when they feel safe and cared for. "Caring for my students extends beyond classroom interactions," syas. She takes her lunch in the classroom together with other students to use the time as an opportunity to get to know them personally.
"I like to find out about their interest, their socioeconomic and social backgrounds, even their allergies and the reasons affecting students' learning, when they get behind or fail to complete home works, absenteeism or tardiness. I make sure to provide them positive nonverbal (like smiling and maintaining eye contact) and verbal communications (expressing positive statements to encourage student effort). It is also important for a teacher to know each of her students' names to convey to them that you've spent a little time and effort to know them," she explains.
It is important for her to share part of herself so that students feel more comfortable around her. She notes that her students listen to her because they respect her, and not because they are afraid of her. This way she is able know what's on their mind and the students get to comfortably express their concerns.
 "I share my personal views on the importance of education, how I pursue my studies despite difficulties and on the effects of our actions not only to other people but more especially to themselves such as me marrying at an early age," she adds.
 Ma'am Tess was the second of eight children in her family, but because of a tragic accident that happened to her eldest brother when they were in elementary she has been the eldest ever since. She finished her studies while working in her relative's handicraft business since 2nd year high school until 3rd year college.  Her husband of 27 years helped her complete her college degree from Bicol University. Her father inspired her with these words: "Behind every successful man there is a woman. You need to be educated in order for you to help your husband and your family."
The support from the educational community is also important in practicing positive discipline and for children's development. She explains, "We take GPTA meetings as an opportunity to discuss about positive discipline to parents and barangay council representatives so that children will not receive contradictory messages in the way we treat children in the homes and in all other settings." 
 Mam Tess lives in Anislag, Daraga, Albay, a 30-minute ride to her school.  Though she is not a local in Sogoy, she is one of the teachers whom residents respect and feel comfortable discussing questions or concerns with, may it be in a personal manner or in barangay activities.
Her educational attainment and academic awards promoted her to become a Master Teacher for 5 years now. Between 2007 and 2008 she became the Coordinator of the District Science and Youth for the Environment in Schools Organization (YES-O).  Under her leadership they were awarded 2nd and 3rd place in science competitions throughout the Division of Sorsogon.  In 2011 she was awarded as an outstanding teacher in Castilla.
She has already been offered to become a principal but she declined it. "I feel that I will have more impact and influence on the lives of children when I have direct contact with them.  Teaching for children to learn is my passion.  I tell my students that I will retire as a teacher in Sogoy Elementary School," she happily explains.
# Story by: Christine Marie Lorica, Project Officer
 +63 52 481.2100 / 481.2111
WHERE ARE IN:
MISSION, VISION, VALUES AND PRINCIPLES: